is a creative collective based in Sydney and New York comprising writers, designers, art directors, and film directors.
Established in 1998 by Gary Freedman and Jonathan Kneebone, The Glue Society's work emcompasses everything from broadcast entertainment, commercials, print advertising, graphic design and books, to art exhibitions, live events, installations and sculpture.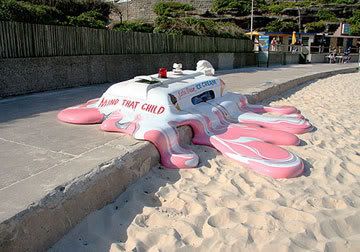 Member James Dive spearheaded this sculpture titled
"Hot With A Chance Of Late Storm"
for the annual Sculpture by the Sea event in Sydney, Australia. Dive, a surfer and multi-disciplined artist, saw the event as an opportunity to make a wry statement about the intense Ausie summers and the tastier effects of the oncoming global climate crisis. Even the iconic ice cream truck music of Greensleeves was slowed down to a warbling drone and played through the sculpture's melted megaphone speakers.
It was voted the People's Choice as well as the Kids' Choice award winner - the first time in ten years that the same sculpture has received both prizes.
http://www.gluesociety.com/#