Well, it looks like I've been ignoring my domain here on this part of the far reaches of the internet for quite some time.
The last time I updated my blog was well over a year ago, and that, I will freely admit, is just plain lazy!
Er... I mean... I've just been way too busy?
Anyway, all joking aside, I'm gonna be doing my best to remedy that and keep these pages something worth checking up on every now and again.
First up, some news that I'm quite excited about.
Saturday, October 11th marks my first true solo exhibit of all original paintings entitled
Blackwater Opera
.
The hosting gallery is DDR Projects gallery in Long Beach, California. Only a couple of short weeks away now, and the anxiety is building to a nice crescendo.
Can you say "sleepless nights?". :)
I'll be adding updates as the date nears ever closer, as well as links and where/how to purchase, but in the meantime, here's a bit of a preview.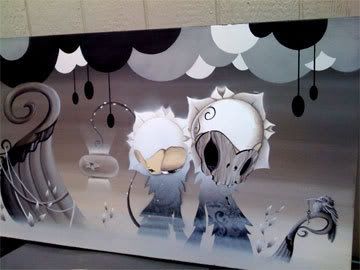 Untitled and soon to be finished.
4ft. by 2ft. acrylic and spraypaint on canvas.
"Of solace and slumber"
3ft. by 3ft. acrylic and spraypaint on canvas